We are dedicated to the traditional teachings of Ashtanga Yoga in the lineage of Krishnamacharya as taught by Sri K Pattabhi Jois. We encourage people of all abilities to practice with us and offer individual support and a safe space to learn and deepen one's practice.
Would you like to bring yoga into your life but don't know how to find the time or where to start? Or would you like to deepen your existing practice?
We want to see you thrive and would love to work with you individually to get the most out of your time on the mat.
Let's get to know each other and tell us about your goals and dreams. Complete the 5-minute quiz below and we will contact you within 24 hours.
Ashtanga Yoga Centre won the Top 25 Most Popular Health and Fitness Service Award for 2019 and 2020.
To change the outside we have to start from within
Whether you are new to yoga or a seasoned practitioner, our classes are suitable for all levels. We welcome all ages and give suitable modification to make the practice work for you. 
Our Ashtanga Mysore style classes run every morning from Monday to Friday, except on Full and New moon days. Please see moon calendar for dates.
Class schedule
MONDAY
5:30 – 8am Mysore style
16:00 – 18:00 Mysore style
TUESDAY
5:30 – 8am Mysore style
WEDNESDAY
5:30 – 8am Mysore style
THURSDAY
5:30 – 8am Mysore style
FRIDAY
5:30 – 8am Mysore style
SUNDAY (starting 15.8.21)
8 – 9:30am Mysore style
no classes on full or new moon days.
Next led class: 31 July at 8am
Full primary series, practitioners who practice up to Navasana are welcome to attend.
Moon Days for 2021
Our shala will be closed on the following days:
Saturday 10 July
Saturday 24 July
Covid-safe
We will do our best to provide a clean and safe place for your practice. To stay COVID-safe we won't provide any studio mats and props at this point. Please bring your own mat and towel. Hand sanitiser and disinfectant sprays are provided in the studio.
If you are new to the studio, please register before class to safe time when you arrive on your first day.
Please call us on 0406 417 255 if you have any questions about the practice.
locations
Ashtanga Yoga Centre
Level 1, 57 Brunswick Street,
Fortitude Valley 4006
5 minute walk from Fortitude Valley train station and the next bus stop is just across the road.
Free on street parking available until 8am and after 5pm. Metered parking during the day.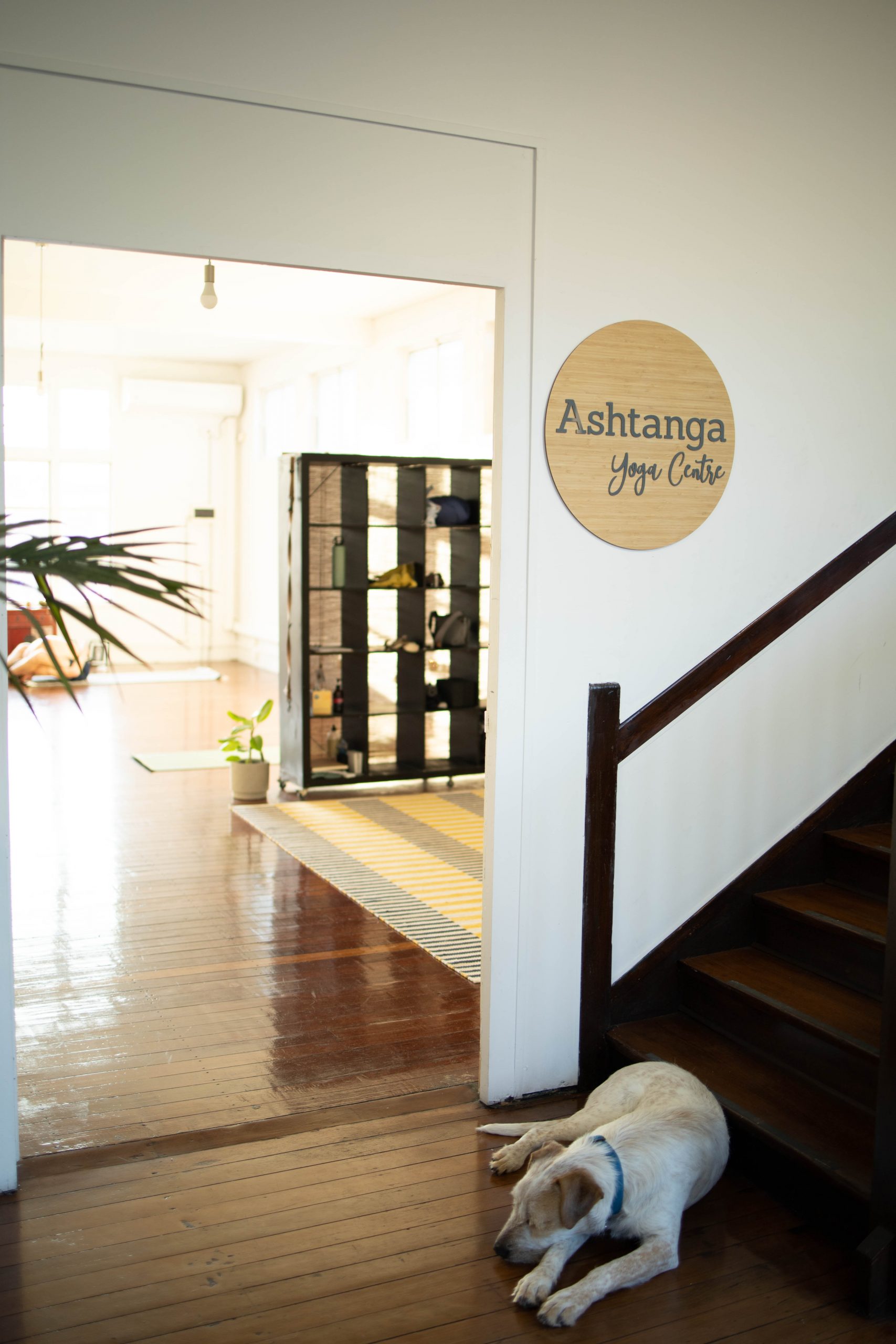 Pricing
We like to keep things simple as you can see in the choices of our class passes. Please select from one of the following options and purchase online or in the studio.
10 class pass
$190 – valid for 3 months
Mysore Practice
Traditionally yoga is taught from teacher to student with individual instructions and physical adjustments. Mysore style practice is exactly that.
It is a group class where each student practices at their own pace with individual guidance from the teacher. Step-by-step you learn a set sequence of postures and repeat the postures each time you practice. Over time more postures will be added to your practice. Class times vary according to your level of experience. This is the most accessible and best way to learn and practice Ashtanga yoga and available to all levels of practitioner.
Led Class (once a month)
A class for students with a regular Ashtanga yoga practice. Its an opportunity to deepen your practice with emphasis on the correct vinyasa count and drishti's (gazing points) in each asana. Dates will be published on our website and on Instagram, follow Ash to stay in the loop: https://www.instagram.com/ashhope.yoga/
Meditation (coming soon)
If you are looking for greater focus, concentration and calmness than sit with us. Give your mind a break and join our drop-in meditation classes. No experience required, just bring a cushion. We sit for 30 minutes and we ask to leave quietly if you need to go earlier.